where dreams are made and stars are born
about us
The International Academy of Music and the Arts; IAMA Sound Lab incorporates music studios, classrooms, and an artist management agency (The International Artist Management Agency). Dr. Cruz has created a niche for like-minded people to gather, learn, and create. At IAMA, Dr. Cruz and her faculty use their talents to educate San Antonio's finest in the art of music. IAMA is Cruz's life aspiration come to fruition.
Beginning with the owner, Dr. Rachel Y. Cruz, DMA (Doctor of Musical Arts), all our faculty are degreed and/or certified. Students of all ages and abilities receive quality instruction in both classical and cultural arts/music education using a comprehensive method that includes theory, ear-training, and technique.
IAMA... where dreams are made and stars are born!
Dr. Rachel Yvonne Cruz earned the degree Bachelor of Arts/Music from the University of Notre Dame and both the Master of Music and Doctor of Musical Arts degrees from the University of Texas at Austin. Dr. Cruz is a Texas Certified, Secondary Music Teacher and has a proven history of excellence in teaching students from middle school through the university level.
Dr. Cruz helped to create the first degree of its kind that is a Bachelor of Arts degree in Music with all-level teaching certification and a specialization or emphasis in Mariachi Performance and Pedagogy.
Having attained many national awards and recognitions, Dr. Cruz, owner, heads a prestigious group of instructors, incorporating state and national standards of music education into the IAMA Music Method and a cultural component that makes IAMA a trendsetter in the world of music education.
Dr. Cruz has the experience, education, spirit of innovation, marketing sense, and determination to continue IAMA's success. And albiet inadvertently, many of San Antonio's students will be given not only a well-rounded education in the arts, but many of the higher level thinking skills needed to be successful in academe and life as a whole in this ever-changing, culturally rich world.
Isabel De La Cerda is a music educator, singer, and fine arts advocate who holds a B.A. in Music with an emphasis in vocal performance from St. Mary's University. Ms. De La Cerda is actively involved in Mu Phi Epsilon, an international professional music fraternity, whose aim is to foster the advancement of music in the community, nation, and world through the promotion of musicianship, scholarship, and education, with an emphasis on service through music. Isabel is currently serving as Vice President of the San Antonio Alumni Chapter and District Director of the South Central 4 District. Ms. De La Cerda teaches elementary music at St. Luke Catholic School in San Antonio, Texas and is a musical director/vocal instructor at various schools, including Edison High School, BASIS San Antonio- Shavano Campus, and the International Academy of Music & the Arts. This fall she will be collaborating with Teatro Audaz as musical director and actor in "Cinicienta, a Quinceañera with a taste of Cinderella" by Pamela Robinson Redman and award-winning composer Federico Chavez-Blanco.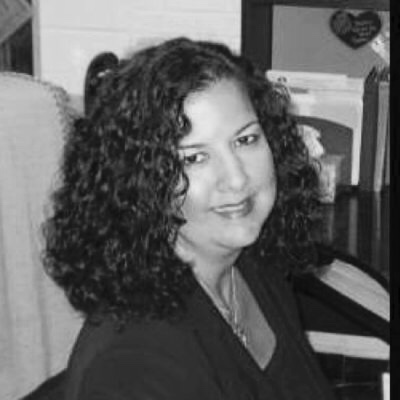 Deborah Siller-Cruz, has served in various positions in the public school system including school principal, administrative assistant, instructional facilitator, and teacher of record. She has extensive experience in the development and evaluation of curriculum, the implementation of innovative instructional programs, and in identifying the needs of instructional staff and recommending and conducting appropriate staff development.
Deborah received a Bachelor of Arts from the University of the Incarnate Word, received her teaching certification from the University of Texas in San Antonio in 1987 and a Masters of Education from Texas A&I Kingsville in 1993.
After serving the students and families of the San Antonio ISD for 27 years, 17 of those years as a school principal, Mrs. Siller-Cruz puts her experience and expertise to work as the COO of the International Academy of Music and the Arts: The IAMA Sound Lab.
Sessions and Lessons
The sound lab
Taught by qualified instructors, beginning with the owner, Dr. Rachel Y. Cruz, DMA (Doctor of Musical Arts), students of all ages and abilities receive quality instruction in both classical and cultural arts/music education using a comprehensive method that includes theory, ear-training, and technique.
Our offerings:
Mind, Body, Music: Implementing Music's power to affect mood, behavior through general music, the development of vocal and instrumental skills, guided listening and imagery, and movement. For those who desire and need a non-traditional approach for music learning and appreciation. Tailored for those with special needs wanting to enhance both artistic and cognitive skills.
Audition/Competition Preparation: Prepares students for University Interscholastic League (UIL) Competitions, auditions for theatrical productions, musical productions, and college entrance auditions.
Musicianship and Theory: Learning to read music, developing aural perception, sight-reading skills, fundamentals of music theory, and keyboard skills. Preparation for those interested in pursuing degrees in music.
Vocal and Instrumental Lessons/Applied Music: Students in Applied Music either learn to play an instrument or to sing and gain proficiency or improve their performance, stage presence, and audition skills.
Rates
Hourly and half-hour lessons sessions are available Monday thru Thursday. Call 210-364-7924 for rates and to reserve your lesson time.
Phone
(210) 364-7924
(210) 310-6298
The Sound Lab @The Flats at Big Tex
423 Blue Star, Suite 5114
San Antonio, TX 78212
Hours
M-Th private lessons by appointment
Contact Us
Call and reserve a time slot for a quality music lesson.
You are just a phone call away from becoming a Virtuoso at The IAMA Sound Lab.
Call 210-364-7924 or 210-310-6298 with questions or comments.
Send an email using form below or get driving directions to IAMA by clicking on the link on the right.
The Sound Lab @The Flats at Big Tex
429 Blue Star, Suite 5114
San Antonio, TX 78204